SPA L14 at Salgados Beach
Spa L14 is a space dedicated to your well-being. With natural light and a panoramic view, it is designed to assure peace and relaxation. The Water Circuit offers the benefits of the sauna, turkish bath, contrast shower and relaxation zones. Then guests can pass through one of the 6 treatment rooms (one for couples), for special care of the body and soul. Examples such as anti-stress massage or hot stones, exfoliation or one of the NAU signature treatments. This is a space for everyone, to feel good about oneself, for two or with the family, to come out whole.


Spa Promotion
Aromatherapy Massage (50 Min)


Aromatherapy massage reflects the antique traditions of Eastern, Indian and Arabic cultures, providing a deep sense of relaxation.

Promotion valid up to 30st of April de 2023.
70€before:85€
See more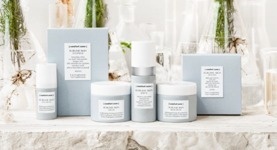 Featured Product
Comfort Zone Products

10% discount in all products of ComfortZone.
10% Discount
See more